{{LOOK
at
what my class
made!!!
!
I AM so
proud
of them}}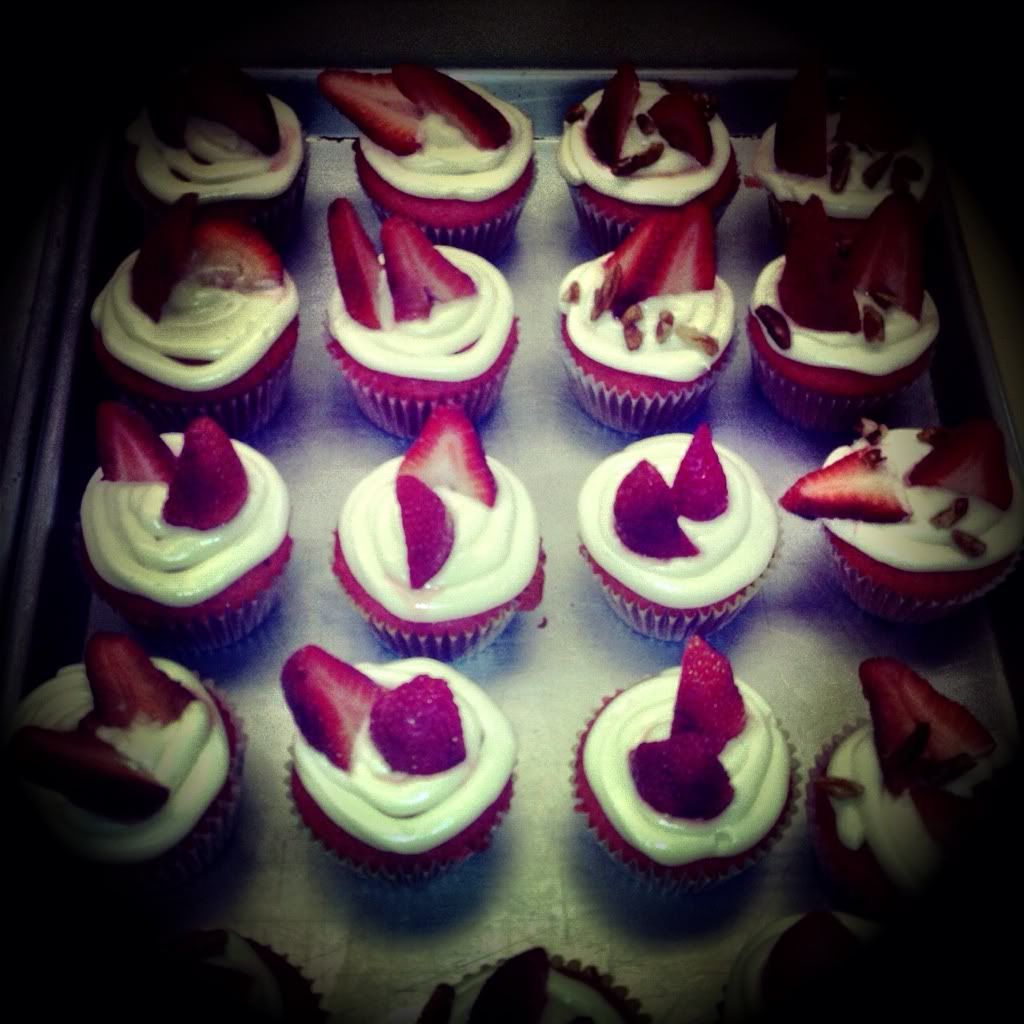 2 1/4 cups
all-purpose flour
l 1/2 cups
sugar
1/4 cup
unsweetened cocoa powder
1 teaspoon
baking soda
1 teaspoon
salt
1 cup
vegetable oil
1 cup
buttermilk
2
eggs
1/4 cup
red food coloring (2 ounces)
1 teaspoon
vinegar
1 teaspoon
vanilla
Preheat oven to 350°F. Line muffin cups with paper or foil liners.
In mixing bowl, combine flour, sugar, cocoa powder, baking soda, and salt. Add oil, buttermilk, eggs, food coloring, vinegar, and vanilla. Beat on low speed of mixer for 30 seconds; increase speed to medium and beat for 45 seconds or less (just until mixed).
Spoon batter into lined muffin pan, filling each cup 3/4 full.
Bake in hot oven for 18 to 20 minutes or until a toothpick inserted in cupcake center comes out clean. Cool on wire racks for 5 minutes before removing cupcakes from pan.
Frost as desired.
Makes 18 2.5 inch cupcakes.
Note: If you don't have buttermilk, plain or vanilla yogurt can be thinned with milk to the consistency of heavy cream and used as a substitute. Powdered buttermilk is available near the dry milk at your supermarket and is convenient to keep on the shelf. Don't substitute regular milk in this recipe.
Servings: 18 - 1 2.5 inch cupcake
****Nutrition (per serving): 245 calories, 13.1g total fat, 1.3g saturated fat, 3.6g polyunsaturated fat, 63.7mg potassium, 30g carbohydrates, 17.4g sugar, less than 1g fiber, 3g protein, 24mg cholesterol, 221.8mg sodium: 22.9mg calcium, 30.9IU Vitamin A, less than 1mg Vitamin C, 1.9IU Vitamin D, 1mg iron